At AV Sierra Dental Center, we invest in state-of-the-art technologies as part of our commitment to providing you with ongoing superior service. Cutting-edge equipment enhances our Palmdale dentists' ability to detect oral health issues early on, to provide personalized treatments, and to execute our treatment plans with unmatched accuracy and excellence.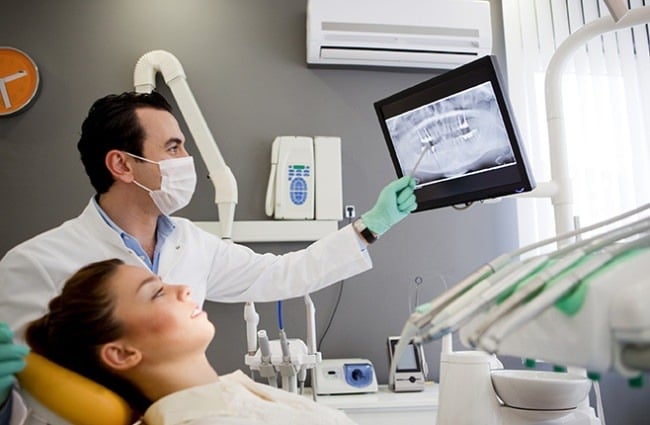 Our investment in technology allows us to enhance your patient-centered dental experience from the first moment you step into our office until the moment you leave. Using advanced data-management systems, we fast-track the check-in and check-out process, allowing you more time to relax before your appointment. Then, whether you need routine x-rays or a complete restoration, we use top-of-the-line equipment to enhance comfort, ensure safety, and speed up the treatment process. Our state-of-the-art technology includes:
Intraoral Cameras: This is a highly advanced piece of diagnostic equipment that allows you and the doctor to clearly see inside your mouth. The handheld camera can zoom in on a specific tooth, and all of the images are displayed on a television screen so that you can be an active part of your treatment.
Digital Radiographs: This form of x-ray imaging uses electronic sensors instead of traditional film, transmitting images to a computer immediately. It is efficient, comfortable, and highly accurate, and it reduces the level of radiation the patient receives.
Soft-Tissue Lasers: Soft-tissue laser technology creates precision cuts in the mouth's soft tissues while eliminating bleeding at the site and reducing healing time.
Ultrasonic Scalers: This small hand-held "wand" uses electromagnetic forces to vibrate rapidly and effectively blast away plaque, calculus and stains from the tooth surfaces with little to no discomfort.
CBCT Vatech:

CBCT (Cone Beam Computed Tomography) is a type of imaging technology used in dentistry that produces detailed three-dimensional images of our patient's teeth, jaw, and surrounding structures. CBCT technology uses a cone-shaped X-ray beam to capture high-resolution images with low radiation exposure, making it a safe and efficient way to diagnose and plan treatments for dental issues. With Vatech's CBCT technology, our dentists can quickly and accurately identify problems such as impacted teeth, bone abnormalities, and root fractures, leading to more precise and effective treatments.

Medit Digital Intraoral Scanner:

Digital intraoral scanning is a cutting-edge dental technology that allows dentists to capture accurate and detailed 3D images of our patient's teeth and gums. With Medit's intraoral scanner, our dentists can easily capture digital impressions of our patient's mouths, eliminating the need for messy and uncomfortable traditional impressions. The scanner captures high-resolution images in real-time, allowing us to diagnose dental problems quickly and accurately plan treatments. The digital data can also be used to create custom restorations, such as crowns or bridges, with precision and efficiency.

SprintRay 3D-Printing:

3D printing is a revolutionary technology transforming the dental industry. With SprintRay's advanced 3D printing technology, our dentists can create high-quality dental restorations such as crowns, bridges, and aligners with unparalleled precision and efficiency. This allows our dental professionals to produce custom restorations in-house, saving both time and money for both the dentist and the patient. Overall, SprintRay's 3D printing technology offers a game-changing solution for the dental industry.
At AV Sierra Dental Center, we regularly upgrade our equipment because we know that advanced equipment ensures more accurate assessments, which means a better solution for your dental needs.