Coronavirus Safety Strategies
We hope this letter finds you and your family in good health. Our community has been through a lot over the last several months, and all of us are looking forward to resuming our normal habits and routines. While many things have changed, one thing has remained the same: our commitment to your safety.
Infection control has always been a top priority for our practice, and you may have seen this during your visits to our office. Our infection control processes are made so that when you receive care, it's both safe and comfortable. We want to tell you about the infection control procedures we follow in our practice to keep patients and staff safe.
Our office meets and exceeds infection control recommendations made by the American Dental Association (ADA), the U.S. Centers for Disease Control and Prevention (CDC), and the Occupational Safety and Health Administration (OSHA). We follow the activities of these agencies so that we are up-to-date on any new rulings or guidance that may be issued. We do this to make sure that our infection control procedures are current and adhere to each agency's recommendations.
You may notice some changes when it is time for your next appointment. We have adopted these additional strategies to help ensure the safety of our patients and staff: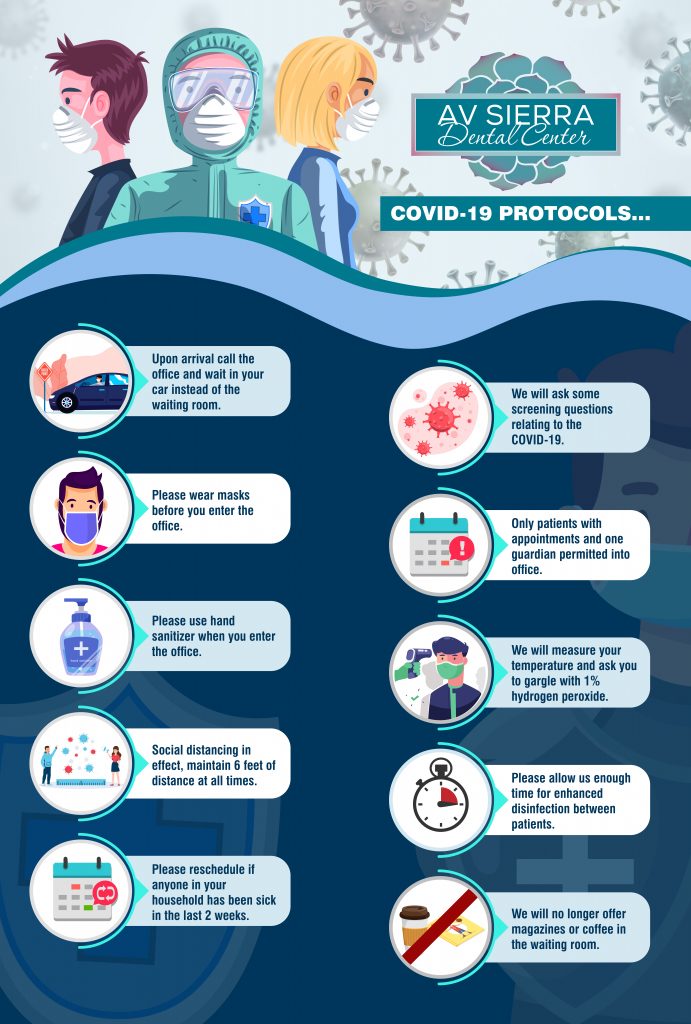 Medical Grade Air Purifiers Throughout the Office

: We will have

medical grade air purifiers

in every operatory as well as in the reception area and hallways, which filter pollutants, bacteria, and viruses down to 0.1 microns (size of Coronavirus).

iWave Air Purifying Devices Installed in all HVAC Units:

iWave

uses a patented technology called needle-point bi-polar ionization to kill viruses, bacteria, and mold in the air with no harmful by-products.

Active Water Line Disinfection: We will use Microclear Waterline treatment in all our dental water lines.

The active ingredient in Microclear is Chlorine Dioxide which effectively kills pathogenic microorganisms such as viruses, bacteria, and fungi.
Chlorine Dioxide is safe. According to the CDC and EPA, chlorine dioxide is added to drinking water to protect people from harmful bacteria and other microorganisms.

Pre-Rinse Disinfectant Mouthwash Prior to Any Treatment: Patients will be asked to pre-rinse with Oracare Health Rinse with Activated Chlorine Dioxide prior to any treatment.
Use of High-Volume Evacuation(HVE) and/or Rubber Dam During Treatment to Reduce Aerosols: 90% of aerosols can be removed with proper HVE, dramatically reducing exposure to airborne contaminants. You may have noticed we began using Dryshields a few years ago.
Check-in From the Car:

We will no longer be utilizing our waiting room and will ask that you call our office from your car before entering the office. Our team will guide you through our new check-in process.

Patient Prescreening: Patients will be asked to complete a Coronavirus prescreening survey prior to their appointments.

Forehead temperature scans will be taken prior to any treatment.

Staff Prescreening:

All team members will have their temperatures taken daily and logged for the record.

Hypochlorous Acid Fogging:

We will be fogging the entire office throughout the day with hypochlorous acid. Hypochlorous acid is 80 times more effective than bleach in killing bacteria, germs, and viruses. It is completely non-toxic to humans and FDA-approved as a no-rinse sanitizer for food.

General Office Protocols

: Hand Sanitizer will be readily available throughout the office. Any surfaces that a patient could touch, such as door handles and countertops, will be wiped with disinfectants throughout the day.

Even before this pandemic, every surface of our operatories was sprayed down with disinfectants for every patient. Barriers were placed on other surfaces in the operatory, disposable masks, gloves, and lab coats/gowns were used with each patient, health histories were reviewed, and blood pressure was taken on each patient.

Appointments will be managed to allow for social distancing between patients. That might mean that you're offered fewer options for scheduling your appointment.
We will do our best to allow greater time between patients to reduce waiting times for you and reduce the number of patients in the reception area at any one time.
We look forward to seeing you and are happy to answer any questions you may have about the steps we take to keep you and every patient safe in our practice. You have our commitment that we will exhaust every effort to keep you safe and comfortable at every visit. To make an appointment, please call our office at 661-202-3542 or email us at [email protected].
Thank you for being our patient. We value your trust and loyalty and look forward to welcoming back our patients, neighbors, and friends.
At your service,
Jason Oh DDS and the AV Sierra Dental Team